Kyle Philibert
By Kyle Philibert on January 18, 2012
The call for contributions for CCWESTT closes on January 31, 2012 at midnight!  If you are someone who is engaged in promoting women in SETT, please take a moment to consider this opportunity: We want to learn about your work, your project or your research and how it promotes the participation of women in SETT  […]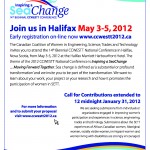 By Kyle Philibert on January 18, 2012
Plans for the next CCWESTT Conference are underway!  The Canadian Coalition of Women in Engineering, Science, Trades and Technology (CCWESTT) will be hosting its 14th Biennial CCWESTT Conference from May 3-5 in Halifax, Nova Scotia. To learn more about the conference, please visit the CCWESTT Conference website at: www.ccwestt2012.ca
By Kyle Philibert on January 10, 2012
A study about Engineering Cultures has been undertaken by Dr. Rachel Campbell at the Department of Sociology at Grand Valley State University. This research was undertaken to explore the experiences of men and women who were trained in engineering, with a focus on understanding what impacts retention within the profession and what it means to […]
By Kyle Philibert on January 9, 2012
"The pool of women engineers has increased, but many of them are leaving the profession. Why?" This article discusses the study "Stemming the Tide" and the reasons why women are leaving the profession. However, a recent National Science Foundation-funded study shows that women make up about 20% of engineering graduates, but comprise only 11% of […]
By Kyle Philibert on January 9, 2012
WEG will be hosting an information session about International Space University (ISU) and the scholarship application process available to Canadian students. To learn about this once in a lifetime opportunity from recent alumni, Helia Sharif, please attend the following session: What: Information session about International Space University When: Tuesday January 10th, 2012 at 1:30pm Where: […]
By Kyle Philibert on January 9, 2012
WEG & WICS' The Networking Night : Thursday, January 19, 2012, 5:30-9:00 p.m. Simon Fraser University's Women in Engineering Group and Women in Computing Science will be holding a collaborative networking event, The Networking Night, on Thursday, January 19, 2012 from 6:30 to 9:00 p.m. with an optional 1-hour Networking Workshop held by SFU Co-op […]
By Kyle Philibert on January 5, 2012
A new study posted by the American Mathematical Society indicates the gender gap in Math is due to cultural reasons, not biological. You may read this study here.
By Kyle Philibert on January 5, 2012
Time & Date: January 12,2012 @ noon Place: Fasken Martineau, 2900 – 500 Burrard Street, Vancouver Presenter: Dr. Elizabeth Croft – WWEST Event Summary: Dr. Croft will provide background research on women in industry in engineering and related fields, discuss the business case for increasing women's participation in these fields.  She will also share some outcomes of […]
By Kyle Philibert on December 21, 2011
The first volume of the CWSE – Prairies Quarterly Newsletter has been published online. If you would like to find out more about the CWSE-Prairies and what it has been up to since the Chair position was announced this past November, please take a look at their website.
By Kyle Philibert on December 15, 2011
Although liver disease is sterotypically linked to alcohol or drugs, the truth is that there are over 100 known forms of liver disease caused by a variety of factors and it can affect everyone from infants to older adults. Learn more about liver disease at our upcoming health awareness series! Information about event: Title: Facts […]